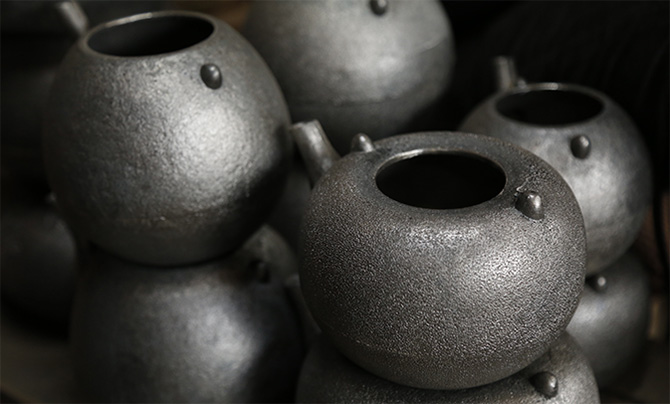 Visiting northeastern Japan's Tayama Nanbu Tetsubin Workshop: continuously making iron kettles.
The owner of the workshop, Mr. Kazuyasu Tayama, is a craftsman who trained at a long established Nanbu Tekki workshop in Morioka, Suzuki Morihisa Kobo which has been in continuous operation for over 400 years. Mr. Tayama started his workshop Tayama Tetsubin Kobo in Koiwai District, at the foot of Mt. Iwate in March 2011 just as the Great East Japan Earthquake occurred.'It was supposed to be leisurely and relaxing at first.' Mr. Tayama said. After he started his workshop, it was a big surprise for him when his son Takahiro said 'I would like to follow in your footsteps'. Takahiro had previously worked for a Tokyo-based food company after earning a Master's degree. For Takahiro, being away from his hometown helped him realize his love for his roots and he began thinking about his birthplace more and more.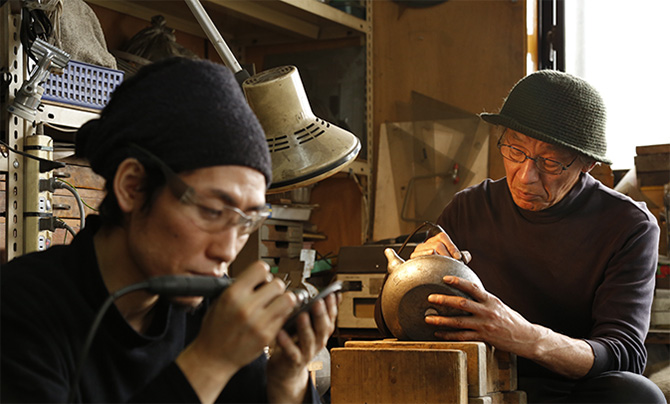 Having faced fatherhood, it's now time to face being a mentor
In days gone by, the work environment for craftsman was inadequate as junior craftsman learned techniques from senior colleagues in a piecemeal fashion. As time moved on, Mr. Tayama began thinking and seeking new ways more suitable to our modern age. He made up his mind to leave the workshop where he had worked for many years because he was near retirement age and thought that junior craftsman may not be able to advance if he stayed. He is now enthusiastically guiding his son Takahiro as an apprentice. If something is difficult or hard to understand for Takahiro, Mr. Tayama patiently repeats it until Takahiro gets the point. As they are father and son there are sometimes conflicts, but they never forget to listen and respect each other.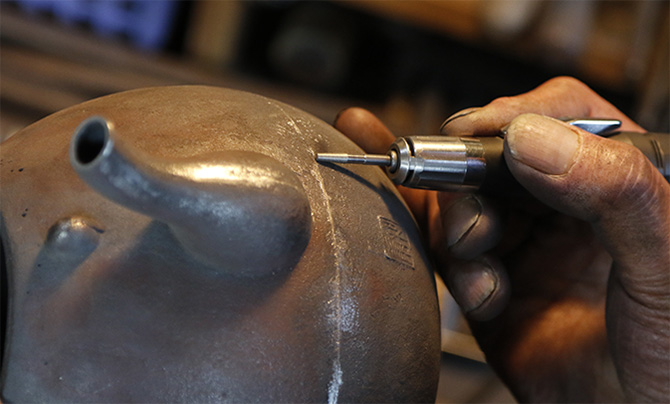 Mr. Tayama devotes his life to 'things unseen'.
Even when some aspect of craftwork is unseen in the final product, it should not be neglected. Otherwise, Mr. Tayama believes, this laziness will affect the whole work and high quality craftsmanship will never be possible. As this is Mr. Tayama's way of thinking, he devotes a remarkably long time to each work. Although he often considers having a drink with dinner after finishing the day's work, Mr. Tayama often returns to work afterward. On occasion he will notice that it's already after 11pm, but he still carries on working until sleepiness sets in.
'I may not get enough sleep, but that doesn't bother me at all. No one calls at night, so to a good extent, it helps me to concentrate on work. Basically, I guess I'm a night owl !' Mr. Tayama laughs.