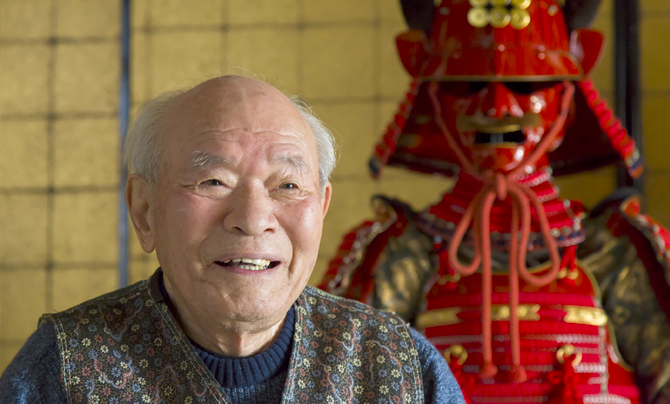 Enthusiasm for Monozukuri (making things) will inspire people and lead to appraisement.
As he became more devoted to making antiques like kacchu, Shinobu's works became ever more popular due to their quality and perfection. In the 1970s, he received an order to make 'kusari zukin' (chainmail) for use by actors on TV and in movies. The 'kusari zukin' was fabricated with input from experts and was a great opportunity to spread the name of Marutake Sangyo. Moreover, they were further asked to the fabricate many kinds of props that were used in historical dramas. In the movies and dramas that we enjoy watching today, many of the works used are made by the craftsmen of Marutake Sangyo. Shinobu smiles as this is the result of their craftsmen's enthusiasm and technical skills. Marutake Sangyo often gets requests like "We cannot make this ourselves. Can you help us?". Each time this kind of request arrives, Shinobu thinks up the design plans himself, devises some new techniques, then tirelessly teaches his craftsmen. He believes that his company's trust and reputation has been achieved by successfully fulfilling these customer desires.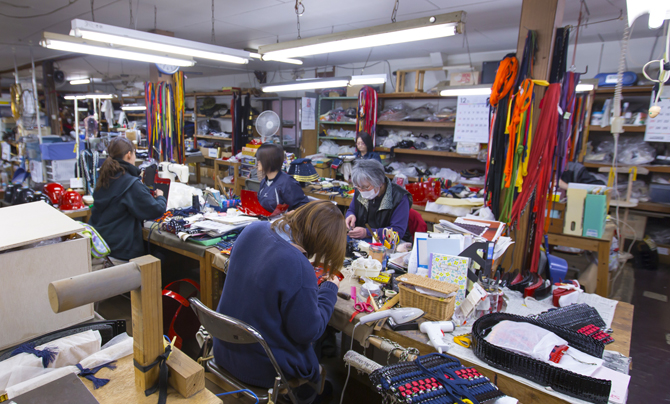 How similar to the kacchu worn by ancient Samurai?
Current President Kenichi aims for authenticity in kacchu production, based on historical evidence. For example, in a movie scene of a sneak attack by samurai. In the movies, we sometimes hear the sound of armor clicking when samurai walk. But if this was so, it would be impossible to mount a sneak attack in the dark as the enemy would notice someone coming. This means it is inauthentic. Kenichi researched historical details, listened to knowledgable people, and frequently visited museums all to bring his work closer to the real thing. "Kacchu is a Japanese tradition while at the same time the full dress of the samurai. I think my mission is to produce a more authentic kacchu to protect the samurai spirit and pass it on to future generations." Mr. Kenichi speaks resolutely. When looking at the scenes of Japanese samurai that appear in overseas movies, the way the armor is worn is sometimes obviously wrong. For the dignity of the samurai, he thinks not only about fabricating armor but also about supervising their use.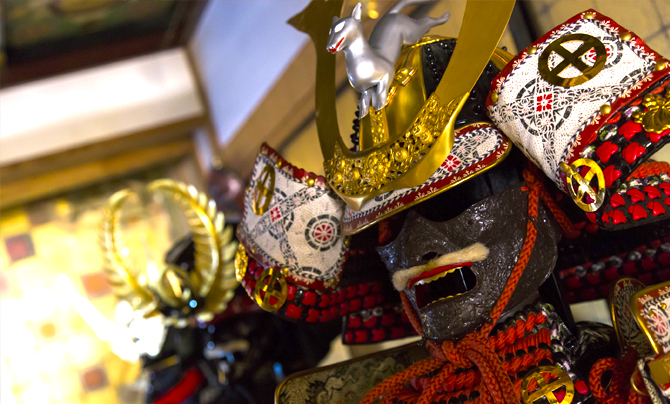 Making Japanese traditions, to be passed on to the future, easier and more familiar.
In addition, Kenichi says that another important goal for the future is to create armor that anyone can easily wear while at the same time aiming for authenticity. Recently, his company has been lending armor to festivals organized by local governments. It is often difficult for older aged people to wear heavy armor. Therefore, they strive to make armor which is comfortable to wear, light and untiring even when worn for long periods. The same thing can be done for armor used in movies and TV. This is possible as the craftsman have a deep knowledge of armor. They know what can be omitted, always select the best materials, and know how to skillfully fabricate. This is their strength as a company. Kenichi is also planning to make armor for children to wear. "Japanese armor has the image of the samurai and is very popular with people overseas. As this is part of our traditional Japanese culture, I wish to share it with the children who will make Japan in the future." The samurai spirit which we protect will surely be inherited.