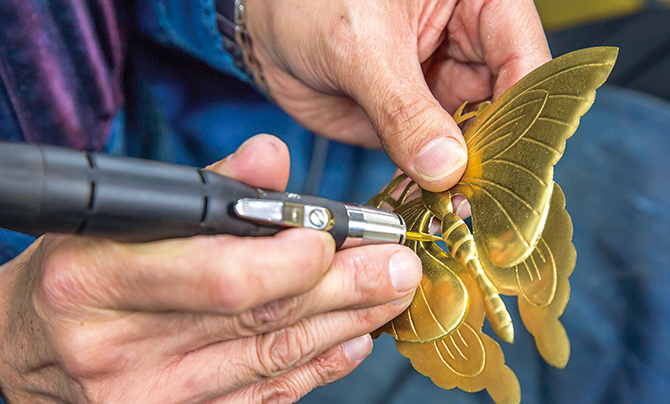 Marutake Sangyo regularly use their favourite Emax EVOlution.
The kacchu fabricated by Marutake Sangyo, especially the kabuto (helmet) is decorated with maedate (front decorations) and kuwagata (a kind of decoration shaped like hoe). The company is based on craftwork done by hand so they carve out the shading areas and do deburring by hand. Since they are skilled craftsmen, their quality is always high but they had often been using more time than expected as the work requires a careful hand. The Emax EVOlution, a high performance micro-grinder with its various tool attachments, made it possible for them to do their fine work faster and more accurately by controlling speed and without harmful vibration. Using Nakanishi's products, it has been possible to improve their production efficiency and increase precision.

【interviewee】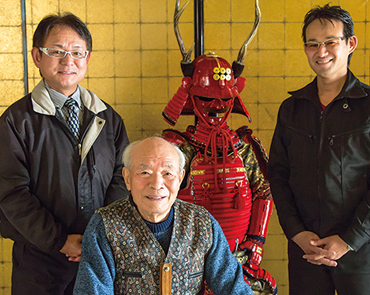 Yoroi Kabuto Kacchu Kobo, Marutake Sangyo Co. Ltd.

Chairman

Mr. Shinobu Tanoue


President

Mr. Kenichi Tanoue


Manager

Mr. Tomotaka Tanoue
Post Code: 899-1923 3535-7 Yushima-Cho Satsumasendai City, Kagoshima Prefecture
TEL: (+81) 996-26-3113
URL: http://yoroi.co.jp
Business Description

(+81) 996-26-3113

Brief History

Marutake (丸竹) Sangyo was founded in 1958, the first 'kusari zukin (chainmail)' was made in 1976. Since then, they have fabricated armor and props for movie use. Have also made various donations of kacchu. Company's name character changed to Marutake (丸武) from Marutake (丸竹). Received various awards and honors, including the Grand Prize of Industrial Economy Award.