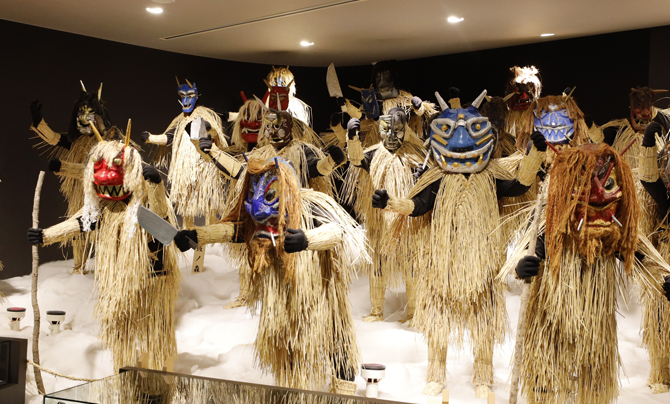 Every Namahage has a completely different face depending which district in the Oga Peninsula it is from.
We ask the reason why there are so many kinds of Namahage. "Actually, Namahage have a different face depending on the hamlet. This is because the people in each area make the Namahage mask using local materials." If you look carefully, you will notice that the facial expressions are different as well as the style. The materials used are also completely different. "There are currently more than 100 Namahage types from about 60 hamlets." Namahage are used only for the New Year's Eve event, so they don't leave their hamlets. Even local people hardly see the Namahage from other hamlets outside the place they live. Therefore, we realized that an opportunity to see this number of different Namahage in the same place is very rare. In recent years, there are about 90 hamlets on the Oga Peninsula that do Namahage events. "The number of houses that refuse to host the Namahage is increasing, with most people reasoning that they only want to spend New Year's Eve time with family. They don't want to spend the morning cooking the meal to treat the Namahage and find it troublesome to clean up after the event." On the other hand, there are 10 hamlets which have restored the event when it was given a "UNESCO Intangible Cultural Heritage" status in 2018. "This cultural event, which has continued for hundreds of years, teaches us to work hard and earnestly as human beings, to toil and to help each other without neglect. We would like to return to this foundation and to think about it together."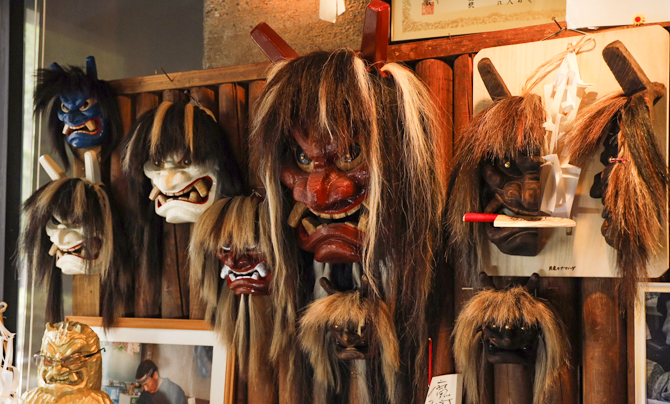 A Namahage mask has to be beautiful.
Most people might imagine the same face when asked, "What does a Namahage face look like?". That means a Namahage mask made by Mr. Senshu Ishikawa. As mentioned earlier, Namahage masks were originally used only at events on New Year's Eve. So they didn't leave their hamlets. When local governments started to publicize the Namahage nationwide, they commissioned Mr. Senshu Ishikawa's father to produce it. Since then, Ishikawa masks have been appearing in the media and on TV. Ishikawa's mask is recognized as the 'Namahage Mask' nationwide. "I'm very proud and honored that our masks have been chosen as representative." he says. Mr. Ishikawa started his mask engraving career in his early 20s, although he actually left his job once. "I couldn't get used to this job when I was young, so I once tried a completely different job. But while I was out, I came to realize the depth and virtue of the mask engraver." His predecessor was a typical old-fashioned style craftsman. He didn't often teach with specific explanation. "By the time my father died, I had only been taught once or twice. He only taught me how to carve black eyes and how to contour them." As for the Namahage mask, eyes are key. The impression will be completely different depending on how the eyes are carved. Even now, Mr. Ishikawa is especially particular about eyes. "I make an angry face in front of the mirror and I sometimes refer to it. I have been told by my predecessor to aim for a beautiful but scary face, and I still keep these words in mind."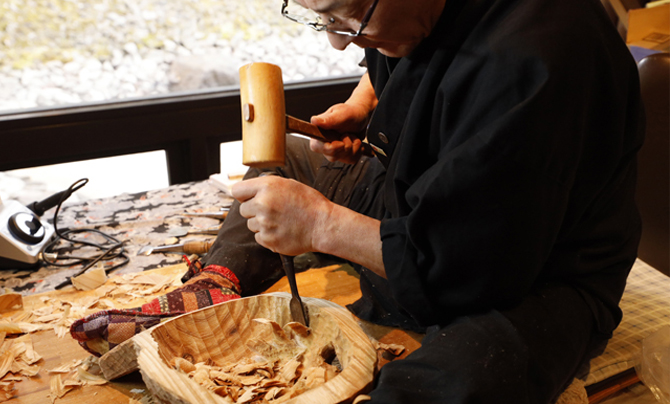 There are things that can be seen by continuing to make.
Until now, there were only two men in the profession of Namahage mask engraving, Mr. Ishikawa and his predecessor. Now it is only Mr. Senshu Ishikawa. In a situation where there was no competition, it has been more than ten years since Mr. Ishikawa's work first appeared. "I expected that my work would be sold as a product quickly as there were no rivals. But my predecessor didn't easily allow it." However, Mr. Ishikawa also gradually improved as a craftsman. Despite his many works being presented as the second generation, he claims that he has never been convinced of his status from his past work. "I feel that I've made something good only for the moment when it's finished. Then I immediately find the bad points." Though it is a viewpoint that can be understood only by those who have reached an advanced level of technique, this thought is the driving force for the creation of his works. "The only way to produce something good is to make new work. The next thing is to keep making things better. It is said that work teaches how to work. I think this is true. There are things that can be seen and acquired by continuance." His father passed away 4 years ago. Once he started to work alone, Mr. Senshu again became aware of the burden of being the second generation mask engraver. "I want to keep making good things till I die, while in my own way improving the designs my father has left me." We would like to continue looking at the beautiful and the scary, looking forward to the evolution of his work.