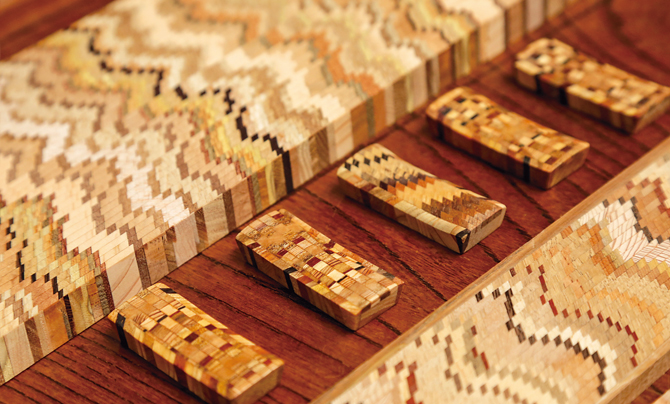 Traditional wood craftsmanship colored with Mokusai marquetry.
A remarkable characteristic of wood crafts made by Kurosaki Kogei is that they utilize marquetry on the surface of Sashimono. Marquetry is a traditional woodcraft that creates beautiful and precise geometric patterns by combining various wood of different types, grains, and colors. At Kurosaki's workshop, they have an original expression of 'mokusai' and they are very focused on it. The reason is that it's possible to bring out some originality while utilizing the beauty of the wood, at the same time improving the quality. When making special order products for customers or even traditional craftwork, Mr. Kurosaki cherishes the value to "not to make things that other people can also make". In order to create delicate, unique mokusai works they keep a playful mind, combining wood with jade stone for example.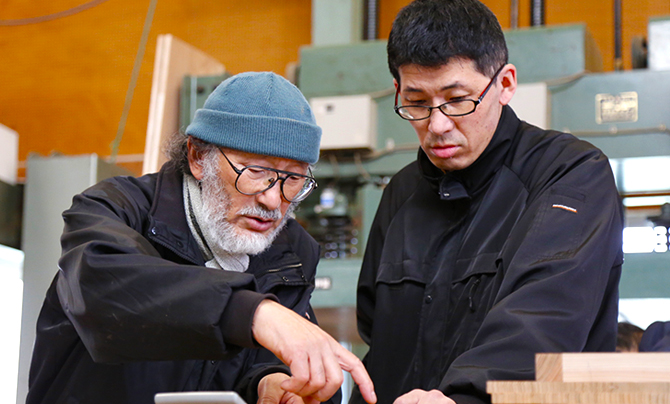 The children who decided to follow the woodcraft path began seeing their father as a master.
Mr. Kurosaki's eldest son Toshio and second daughter Youko are now following the path of woodwork. At first Toshio disliked his job, much like his father Keihiro did. Toshio was interested in making woodcraft products, but no matter how confidently he made his products, Keihiro would never give him a 'passing' grade. However, he learned something from the basic preparation of tools such as how to sharpen the blade of a plane and by knowing the delicacy of wood. He came to understand the overwhelming difference in finish between his own and his father's work. Youko is in charge of accessories and this is the same kind of woodwork. By laboring in the same field of woodworking, she said she can appreciate the high level of her father's ability to cut down raw wood, repeatedly polish it, and finally reach a state of artistic expression. Toshio and Youko both now have a common feeling to work towards improving to their father's level.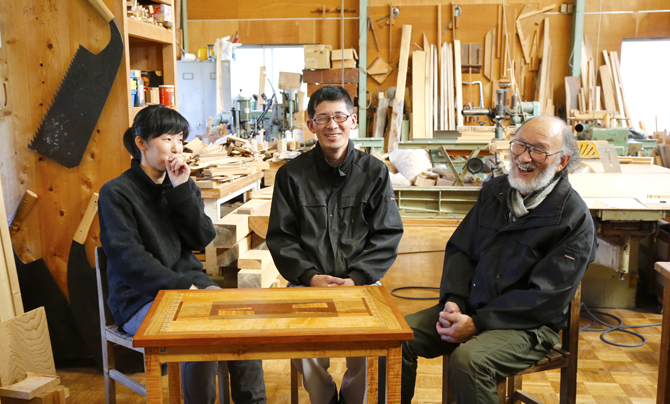 As a family, as woodworkers, three of them are together.
Nowadays, it's common for most furniture to be mass-produced. The furniture in this workshop is made by hand, one by one, and this may seem inefficient. But Toshio says, "We are an order-made workshop, we make our customer's dreams reality". Father Keihiro enthusiastically adds, "In the conversation with customer, I would like to propose products which are beyond customer's dream". This is because they are confident that handmade offers a greater pleasure in meeting the customer's needs by offering something which cannot be found anywhere else. "Even after its shape is changed into furniture, wood is still alive. I want you to enjoy the changing expression and style with the passage of time." As Youko says, people can spent a life together with wood. Although the two children feel insulted as not making the grade, when the three finally meet at the same level, even more beautiful and sophisticated works will be created.