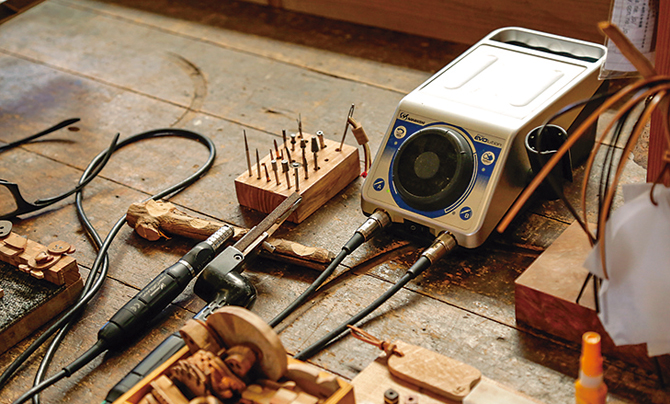 Kurosaki Kogei regularly use their favourite Emax EVOlution.
An inescapable part of the process for skilled mokusai and accessories making is whittling down wood to make it thin. Using a plane or chisel blade may retain heat and lose sharpness half way through a cut. However, with the Emax EVOlution high efficiency micro-grinder and its various tool attachments, it's possible to proceed as your needs because there is no vibration. Using Nakanishi products, Kurosaki Kogei aims to make woodcraft products with a higher degree of completion, not only for traditional crafts but also for practical furniture too. Details of the Emax EVOlution can be found below.

【interviewee】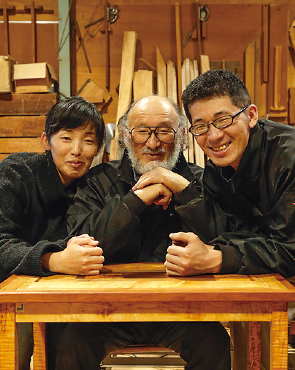 Kurosaki Kogei

Representative Mr. Keihiro Kurosaki
Mr.Toshio and Ms. Youko Ugajin
Post Code:321-2117 699-4 Iwaharamachi Utsunomiya City, Tochigi Prefecture
TEL: +81-28-652-3200
URL: http://zatuboc.sakura.ne.jp
Business Description

Creation, Production, Sales and Repair of Japanese traditional furniture, western furniture, and fittings.

Brief History

Keihiro Kurosaki/ Predecessor (his father) started to primarily make 'Sashimono' in Arakawa Ward, Tokyo in 1937. He was evacuated to Tochigi Prefecture after the devastation of the 'GreatTokyo Air Raids'. Established Kurosaki Kogei in Utsunomiya City, Tochigi Prefecture in 1954. Producing various styles of products including traditional Japanese furniture, western furniture, and fittings.