Sales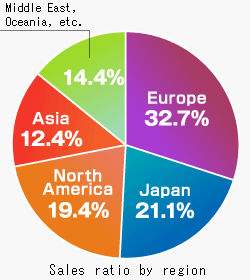 Highly acclaimed for their superb quality and reliability as well as excellent cost performance, NAKANISHI products have a record of achievement in over 120 countries around the world. Our overseas market has expanded to the point where it now accounts for about 75% of our sales at the present.
The first overseas corporation, NSK America, was established in 1984. Following our success in entering the North American market we have aimed to build a worldwide sales and service network and to expand it.
Following the US corporation, a Middle East office was established in Dubai, United Arab Emirates(UAE)in 2000. NSK Europe GmbH was established in Frankfurt, Germany in 2003 to fortify sales in Europe, a center for dental device makers, and NSK France S.A.S was established in Paris in 2004. We have thus proceeded in building a foundation in Europe, which is crowded with the world's leading businesses in dentistry, including the world's top general dental manufacturers, rotary device makers, and ultrasound device makers.
At the same time, NSK Shanghai was established in China, where we plan to develop sales and services as a core base for Asia.

From 2007 we will develop a system that can quickly respond to differing local needs, establishing NSK United Kingdom (England) and NSK Oceania (Australia), and opening a resident office in Moscow, Russia NAKANISHI's regionallybased direct operations are intended to have the tangible merits of shortening delivery lead time and increasing the level of follow-up. Not only that, but they will also build up the level of confidence of the end-users through regionally-based operating activities. Furthermore, they will have the psychological effect of increasing local employee's morale through infiltration of the "NAKANISHI Spirit."

Together with this kind of regionally-based strategy we have prepared a management system controlled by the home office for the local corporations-from their image in promotion and advertising activities up to the services they provide. This is being done so that a unified image of NSK can be presented in any region of any country, as we are strongly pursuing a global branding strategy.
NSK France S.A.S.
NSK United Kingdom Ltd.
NSK Shanghai Co.,Ltd
NSK America Corp.
NSK Rus & CIS
NSK Middle East
NSK Oceania Pty Ltd.